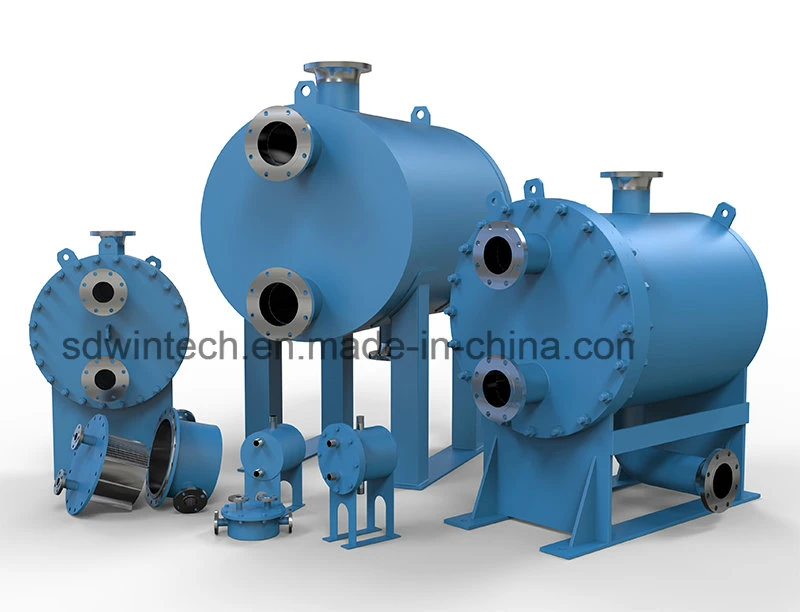 Desgin Principle
The roundness plate and shell heat exchanger contains a round plate pack in which the "herringbone" pattern is pressed into each plate. The products pass through the port holes and into the gap between the plates. The heat transfer takes place when the warmer product transfers energy through the flow plates and delivers it to the colder opposing product without mixing the both products.
The "herringbone" pattern ensures turbulent flow within the effective area. Furthermore, this pattern brings "metallic" contact between the plates, then optimal differential pressure is achieved.
The plate pack is firmly fixed into the round shell.
The advantages of this roundness plate and shell heat exchanger:
unique and durable plate bundle structure,roundness plate and ring shape are welded, stress uniformly distribution,plate bundle and shell are not welded,this can bear all kinds of heat expansion
sturdy and secure shell structure, this can be installed in any position and is not affected by external forces,
no leakage or explosion
very compact structure,small volume,light weight,the thermal insulation of the site is convenient and saves the heat preservation area
The flexible design of the structure can meet the different heat transfer needs,multiple nozzle arrangement,multiple configurations are available
corrugated flow channel medium turbulent flow, small scaling rate,long operation period,extremely low maintenance cost
various materials are available, various process combinations, various plate and shell type are available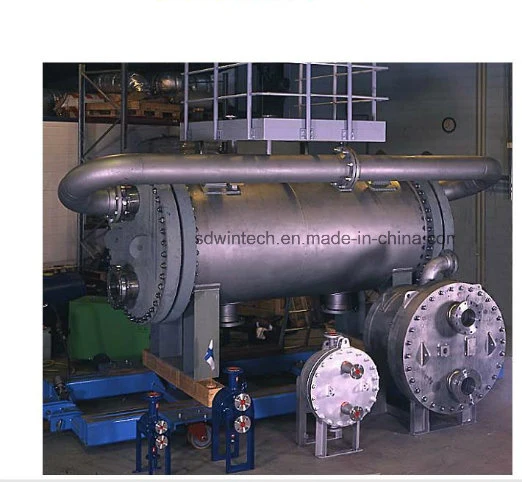 Technical Parameters:
Design Pressure
WT1.6/2.5/4.0/6.3MPa
Maximum Pressure
9.8 MPa
Design Temperature
-100-450ºC
Maximum design Temperature
-196-700ºC
heat exchanger
0.5-280 m2
minimum heat transfer temperature difference
<2ºC
Compact structure
the unit volume of the heat transfer area: 300m2/m3
ordinary tube heat exchanger: 80-140m2/m3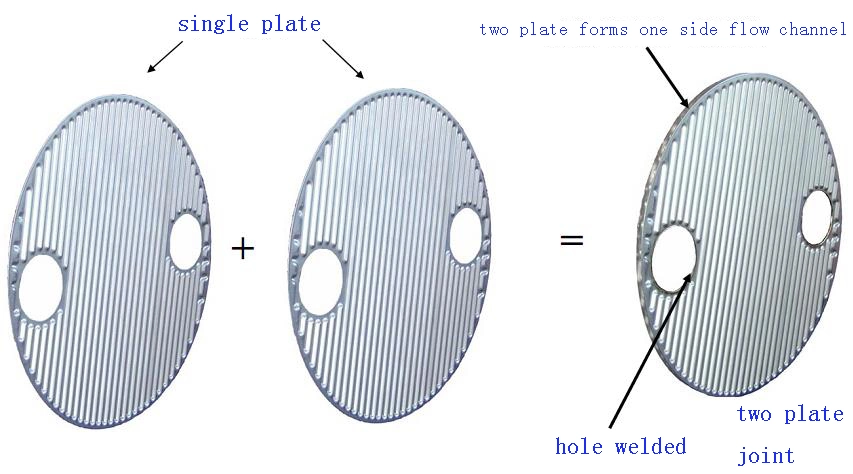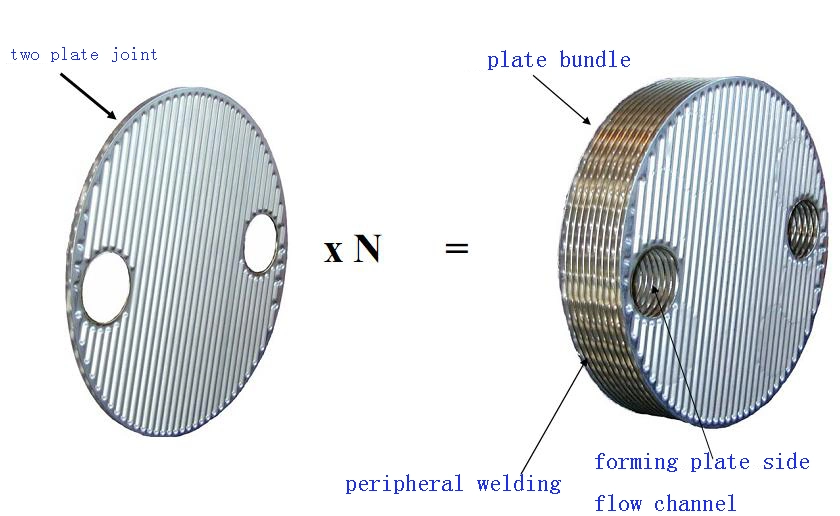 Application field :
This roundness plate and shell heat exchanger uses laser welded cassettes which are made up of two round plates welded together using modern laser welding mashines.
These cassettes are designed for chemical processes, the refrigeration industry as condensers and evaporators in the marine area, power stations, heat recovery and many other tasks where high pressure and high/low temperatures are demanded.
Data Required for Correct Quotation:
•Duty
• Flow rate
• Temperature
• Type of media
• Working pressure
• Working Temperature
• Pressure loss
• Thermodynamic properties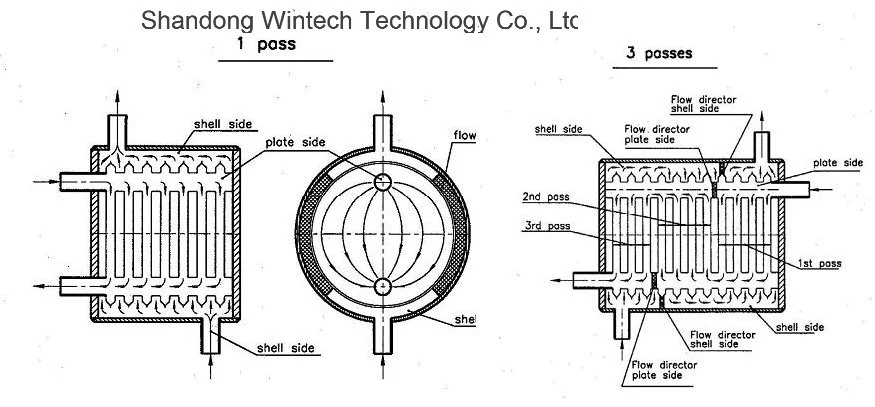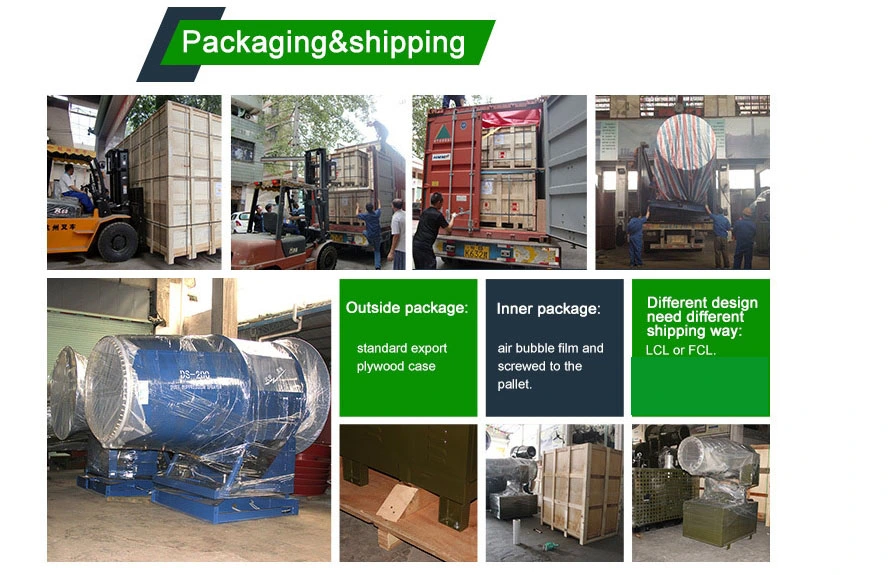 Pre-sales Service:
Customization:
W
e can
specially
customize products
if you tell us any special requests,
s
uch
as spare parts,
cylindrical
tank, material, output, pump.
..
After-sales Service:
1.
One-year free warranty and life-long maintenance service
2. Equipment
o
peration and maintenance vedio guide for the
c
ustomers
3
.
Help
to
do worker training
4
.
On-line support every day
FAQ:
1.
Q:Are you a factory or trading company?
A:We are one of the largest
heat exchanger

manufactory in China.
2.Q:Can we visit your factory before placing orders?
A:
Sure,
warmly welcome to
our factory!
3.Q:What
'
s the
in
fo
needed if I
send one inquiry
?
A
:
Pls
tell
us
the
working
conditions,
mediums,t
emperature
,pressure, .
,size,q
uantity,
and other special requests.
4.Q:What is
the MOQ?
A:We accept loose quantity order,any trial orders
or
mixed order
5.Q:How does your factory
do
quality control?
A:Quality is priority
,we make relevant strict testing before delivery
Our factory has
already obtained
ISO9001
quality
and ISO 14001
Environmental management system certificate