Features and functions:
1. Imported American and Japanese brand new compressors featuring built-in safety protection, low noise, low electricity consumption, increased reliability & longer life.
2. SCHNEIDER electric components ensure the stable operation and long service life.
3. Imported Italian famous brand water pump, large flow, high efficiency and long lasting service life.
4. Imported precise digital display temperature controller is provided to precisely control water temperature with variation of ± 1 degree. Temperature can be set in the range from 5degree to 50degree.
5. Fully stainless steel thick water-tank-type evaporator is integrated with the built-in automatic water replenishing device for quick and convenient cleaning and maintenance.
6. The condenser of the water cooled unit is shell-and-tube type, with inner thread copper tube and reasonable design, the effect of heat exchanging is good. The condenser of the air cooled chiller unit is made of aluminum fins and row column tubes to guarantee the high efficiency of heat exchange.
7. Static plastic spraying enclosure with aesthetic design, elegant appearance, convenient operation and maintenance.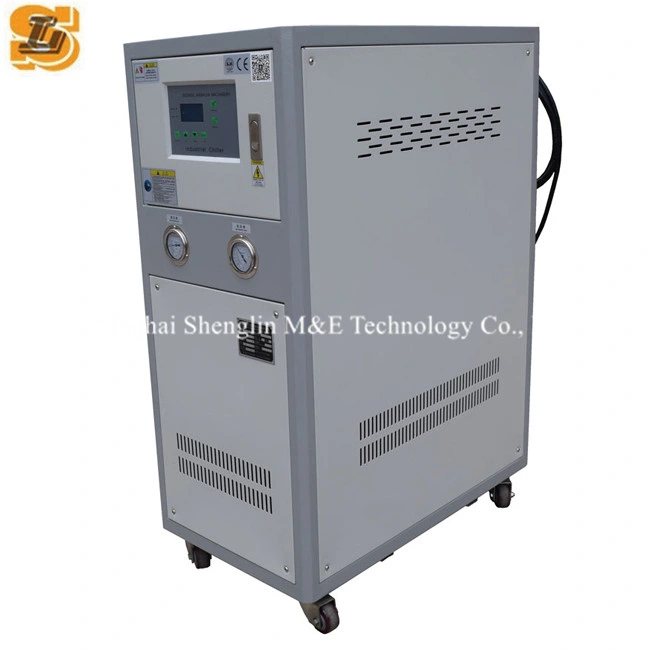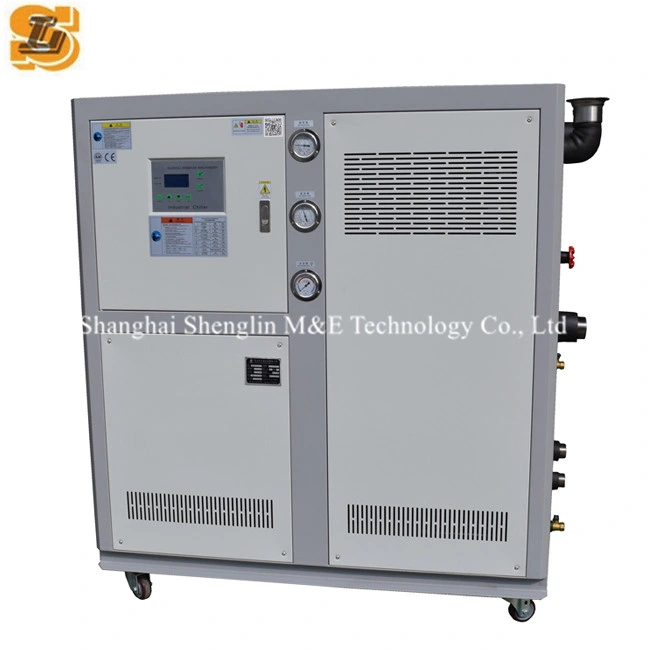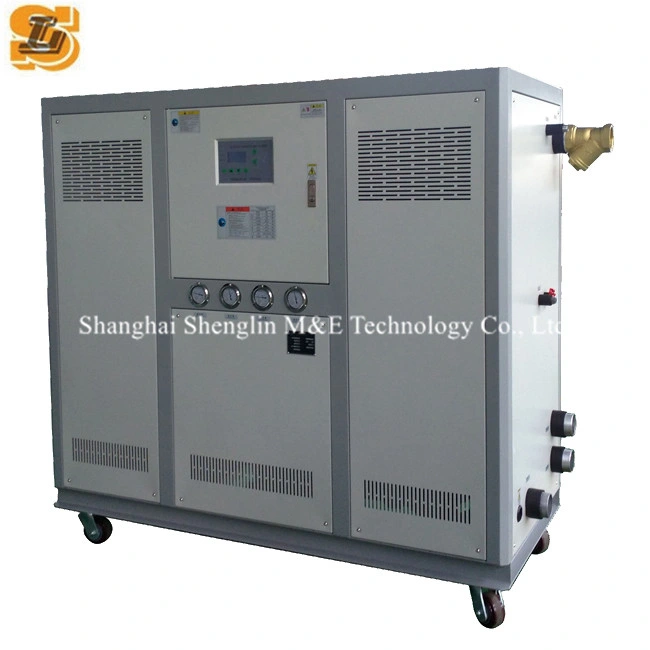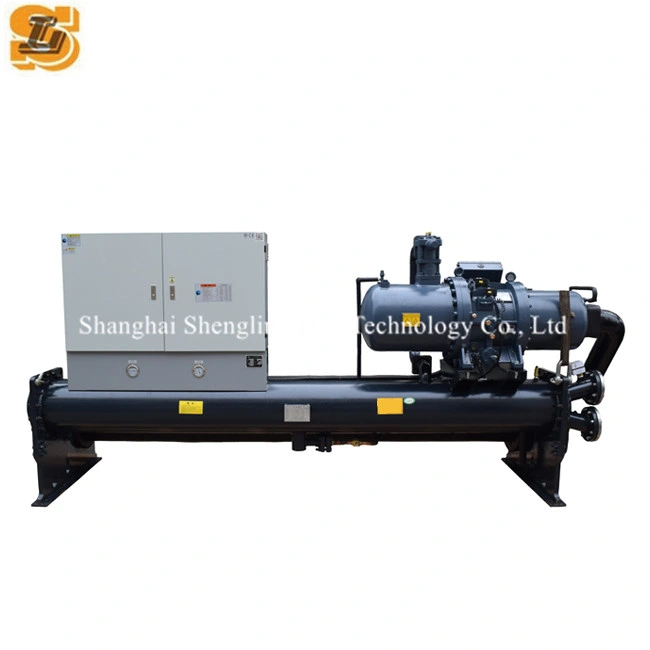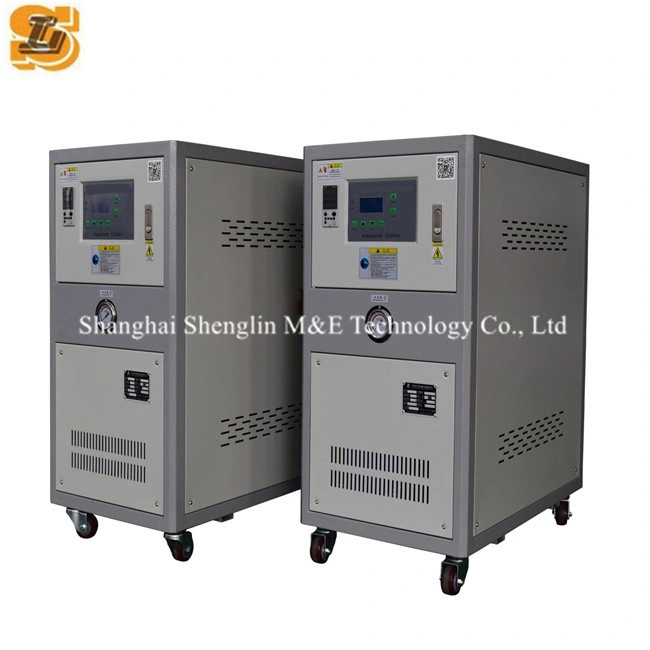 AW-03
AW-05
AW-06
AW-08 (D)
AW-10 (D)
AW-12
AW-15
AW-20 (D)
AW-25 (D)
AW-30 (D)
AW-40 (F)
AW-50 (F)
AW-60 (F)
Standard cooling capacity
kcal / h 50HZ / 60HZ
7912 9288
12900 15394
15222 18490
20296 24338
25800 30960
29412 35260
41710 50052
52460 62092
58738 70606
83420 100104
104920 125904
117476 140972
159960 191952
KW 50HZ / 60HZ
9.20 10.8
15.00 17.9
17.7 21.5
23.6 28.3
30 36
34.2 41
48.5 58.2
61 72.2
68.3 82.1
97 116.4
122 146.4
136.6 163.9
186 223.2
Enter the total power
KW
3.07
5.2
5.95
7.87
9.57
10.92
15.22
19.71
21.89
31.19
38.7
48.5
62.38
Power
3PH 380V 50HZ ( 200V/220V/415V 50HZ/60HZ )
Refrigerant
Name
R22 ( R134a/407c )
Control
Capillary
Outside the balanced thermostatic expansion valve
Compressor
Type
Hermetic scroll ( piston )
Power (KW)
2.7
4.55
5.2
3.52 × 2
4.41 × 2
9.82
13.72
8.3 × 2
9.82 × 2
13.72 × 2
8.3 × 4
9.82 × 4
13.72 × 4
Condenser
Type
Shell and tube
Cooling water (m3 / h)
2.1
3.5
3.6
5.2
6.76
7.9
10.7
13.9
15.8
20.5
27.8
31.6
40.9
2.5
4.2
4.4
6.1
7.4
9.3
11.7
16.3
18.6
22.7
33.35
37.9
49.08
Out of the water pipe
1 - 1/2 "
1-1/2 "
1-1/2 "
1-1/2 "
1-1/2 "
1-1/2 "
2 "
2 "
2-1/2 "
3 "
3 "
3 "
4 "
Evaporator
Type
Tank coil ( dry shell and tube type )
Frozen water (m3 / h)
1.63
2.63
3
4.1
5.2
5.89
8.35
10.3
11.76
16.7
20.6
23.52
31.88
1.93
3.16
3.7
4.9
6.24
7.06
10.02
12.11
14.13
20
24.72
28.22
38.26
Tank capacity (L)
60
60
90
150
200
200
330
330
350
450
580
620
750
Out of the water pipe
1 "
1 "
1 "
1-1/2 "
1-1/2 "
2 "
2 "
2-1/2 "
2-1/2 "
2-1/2 "
3 "
3 "
3 "
Pump
Power (KW)
0.37
0.75
0.75
0.75
0.75
1.1
1.5
2.25
2.25
3.75
5.5
5.5
7.5
Head (m)
20
20
20
22
20
20
20
20
20
22
30
30
30
Security
Compressor overheat protection, overcurrent protection , high and low pressure protection , overtemperature protection , flow protection, phase sequence / phase loss protection, exhaust overheating protection
Mechanical Dimensions
Length (mm)
890
890
890
1170
1170
1170
1700
1700
1700
1880
2000
2100
2200
Width (mm)
500
500
500
710
710
710
810
810
810
910
1100
1100
1150
Height (mm)
840
840
840
1200
1200
1200
1620
1620
1620
1800
1960
1960
2100
Mechanical Weight
Kg
130
150
165
300
430
500
735
820
900
1150
1250
1400
1500