Gasket Plate Heat Exchanger
Frame plate: Carbon steel/Stainless
Nozzles: Carbon steel/Stainless
Metail Lined: Stainless steel, Titanium
Gasket: NBR(Nitrile), EPDM, F26, FTP etc
Plate: Stainless steel 316L/304/Titanium/ti-PD SMO254/Ni/HASTELLOY(C276,C22)
Gasket fastening solution: Clip-on gasket/Tape-on gasket
Specification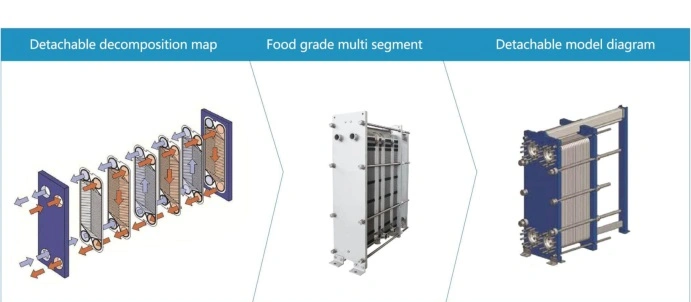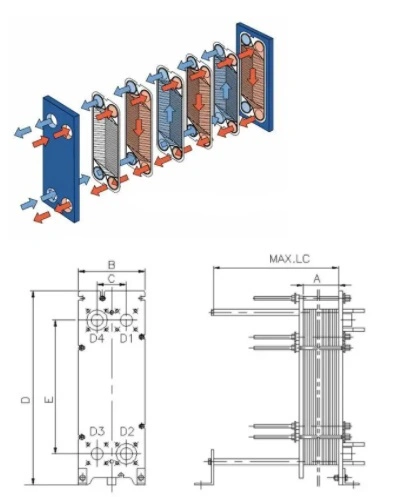 | | |
| --- | --- |
| The bottom of the center to ground level (mm) | 130 |
| MAX.LC (mm) | 1200 |
| Connection (mm) | 50 |
| Maximum flow (m3/h) | 36 |
| Design pressure (MPa) | 1.6 |
| Max. number of plates | 250 |
| | |
| --- | --- |
| Plate Material | Suitable fluid |
| Stainless steel (SUS304, 316L etc.) | Pure water, River water, Edible salt water, Mineral oil |
| Titanium, ti-pd | Brine, sea water, Salt water |
| SMO254 | Dilute sulphuric acid, Salt water solution, Inorganic aqueous solution |
| Ni | High temperature, High concentration of caustic soda |
| Hastelloy (C276, C22) | Concentrated sulfuric acid, Hydrochloric acid, Phosphoric acid |
| | | |
| --- | --- | --- |
| Main body gasket | Operating temperature (ºC) | Suitable fluid |
| NBR | -15 ~ +135 | Water, Sea water, Mineral Salt, Brine |
| EPDM | -25 ~ +180 | Hot water, Vapour, Acid, Base |
| F26 | -25 ~ +230 | Acid, Base, Fluid |
| FTP | 0 ~ +160 | Concentrated acid, Base, High temperature oil, Vapour |
| | |
| --- | --- |
| Plate type | Application |
| Lower runner (B) | Temperature drop of heat-transfer medium too large, Temperature difference of logarithm too small |
| High runner (H) | Request of viscosity, Fibroid, Pressure drop too small |
| | | | | | | | | | | | |
| --- | --- | --- | --- | --- | --- | --- | --- | --- | --- | --- | --- |
| Model | A (mm) | B(mm) | C (mm) | D (mm) | E (mm) | MAX.LC (mm) | Connection (mm) | Exchange area (m2) | Max. number of plates | Max. volume flow (m3/h) | Design pressure |
| M3 / B30B | N(2.5+X) | 180 | 60 | 480 | 357 | 500 | 32 | 0.032 | 95 | 18 | 1.6 |
| TS6M / S60H | N(4+X) | 400 | 203 | 704 | 380 | 1200 | 65 | 0.086 | 147 | 50 | 1.6 |
| M6 / B60B | N(2.0+X) | 320 | 140 | 920 | 640 | 1200 | 50 | 0.15 | 250 | 36 | 1.6 |
| M6M / B60H | N(3.0+X) | 320 | 140 | 920 | 640 | 1200 | 50 | 0.15 | 203 | 36 | 1.6 |
| K60B | N(2.0+X) | 320 | 140 | 950 | 689 | 1200 | 50 | 0.12 | 250 | 36 | 1.6 |
| K60H | N(3.0+X) | 320 | 140 | 950 | 689 | 1200 | 50 | 0.12 | 203 | 36 | 1.6 |
| M10B / B100B | N(2.55+X) | 470 | 225 | 1069 | 719 | 1600 | 100 | 0.25 | 278 | 140 | 1.0/1.6/2.5 |
| M10M / B100H | N(3.95+X) | 470 | 225 | 1069 | 719 | 1600 | 100 | 0.25 | 180 | 140 | 1.0/1.6/2.5 |
| K100B | N(2.55+X) | 470 | 225 | 1099 | 763 | 1600 | 100 | 0.3 | 278 | 140 | 1.0/1.6/2.5 |
| K100H | N(3.95+X) | 470 | 225 | 1099 | 763 | 1600 | 100 | 0.3 | 180 | 140 | 1.0/1.6/2.5 |
| TS20M / S200H | N(4+X) | 800 | 363 | 1405 | 698 | 3000 | 200 | 0.3 | 400 | 600 | 1.6 |
| TL10 / L100B | N(2+X) | 480 | 225 | 1888 | 1338 | 3000 | 100 | 0.5 | 400 | 140 | 1.0 |
| K150H | N(3.95+X) | 610 | 298 | 1616 | 1095 | 3000 | 150 | 0.5 | 600 | 360 | 1.0/1.6/2.5 |
| M15B / B150B | N(2.5+X) | 610 | 298 | 1815 | 1294 | 3000 | 150 | 0.65 | 600 | 360 | 1.0/1.6/2.5 |
| M15M / B150H | N(3.95+X) | 610 | 298 | 1815 | 1294 | 3000 | 150 | 0.65 | 600 | 360 | 1.0/1.6/2.5 |
| M20M / T20M / B200H | N(4+X) | 780 | 353 | 2260 | 1478 | 3000 | 200 | 0.85 | 400 | 600 | 1.0/1.6 |
| MX20B / MX25B / B250B | N(2.5+X) | 920 | 439 | 2895 | 1939 | 3000 | 250 | 1.5 | 500 | 750 | 1.0/1.6/2.5 |
| M30 / B350B | N(3.3+X) | 1150 | 596 | 2882 | 1842 | 4800 | 350 | 1.85 | 700 | 997 | 1.0/1.6 |
Features of detachable plate heat exchanger
1. High heat transfer efficiency, can reach 1ºC temperature difference.
2. The floor space is small, the structure of the plate heat exchanger is compact, and the floor space is small. There is no need to reserve a lot of maintenance space during installation, and the heat exchange can be increased.
3. Low cost, light weight, can increase or decrease the heat exchange area, under the same heat exchange, the heat exchange area is smaller than the tube heat exchanger, reducing user costs; it can be increased or decreased according to the working conditions Heat exchange area.
4. Less heat loss and convenient for heat energy recovery.
5. Convenient maintenance, simple and easy to clean, just loosen the threads on both sides, saving maintenance costs and time.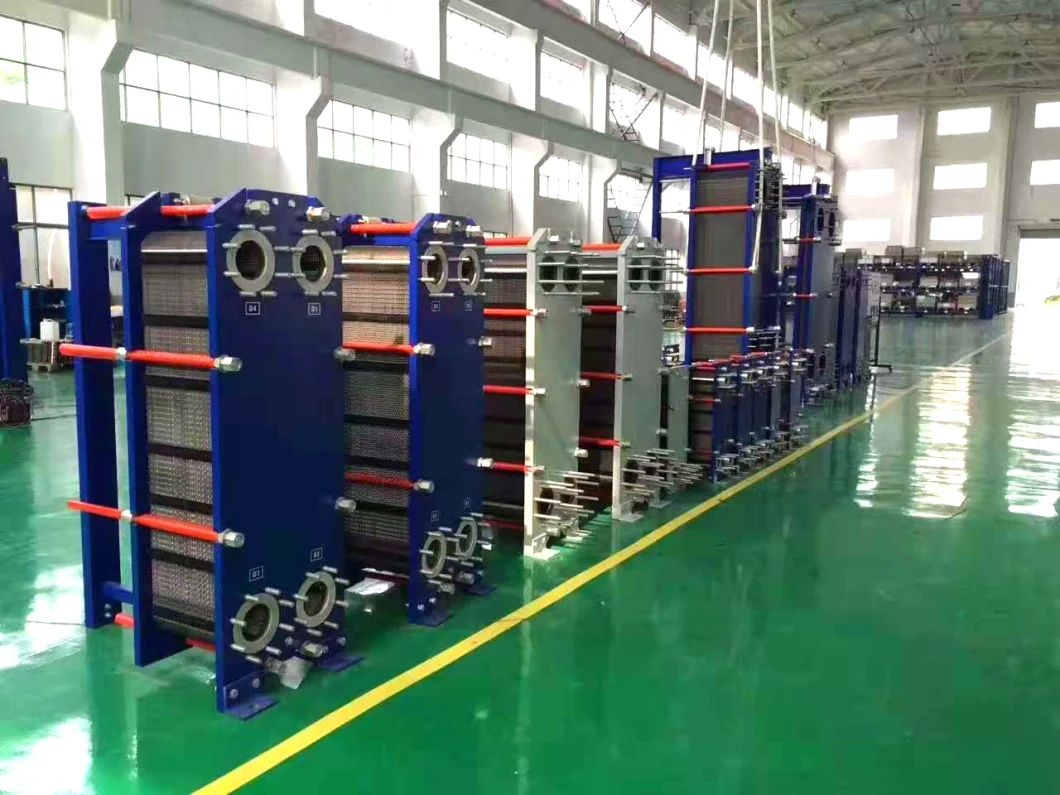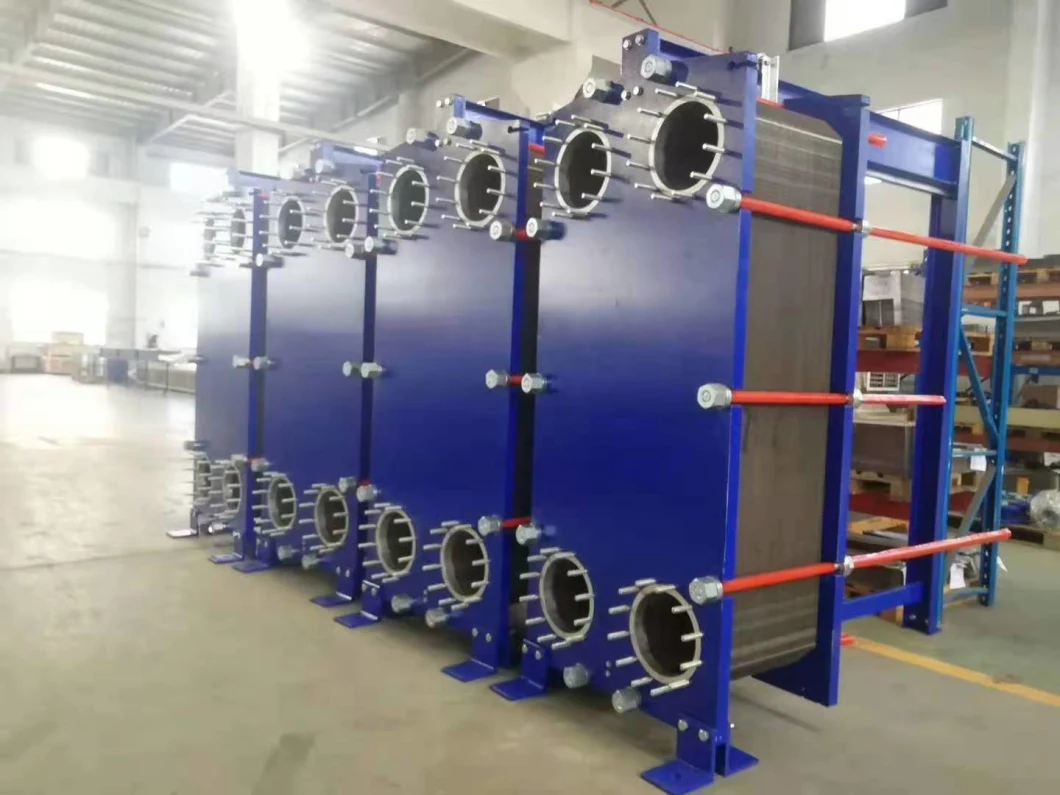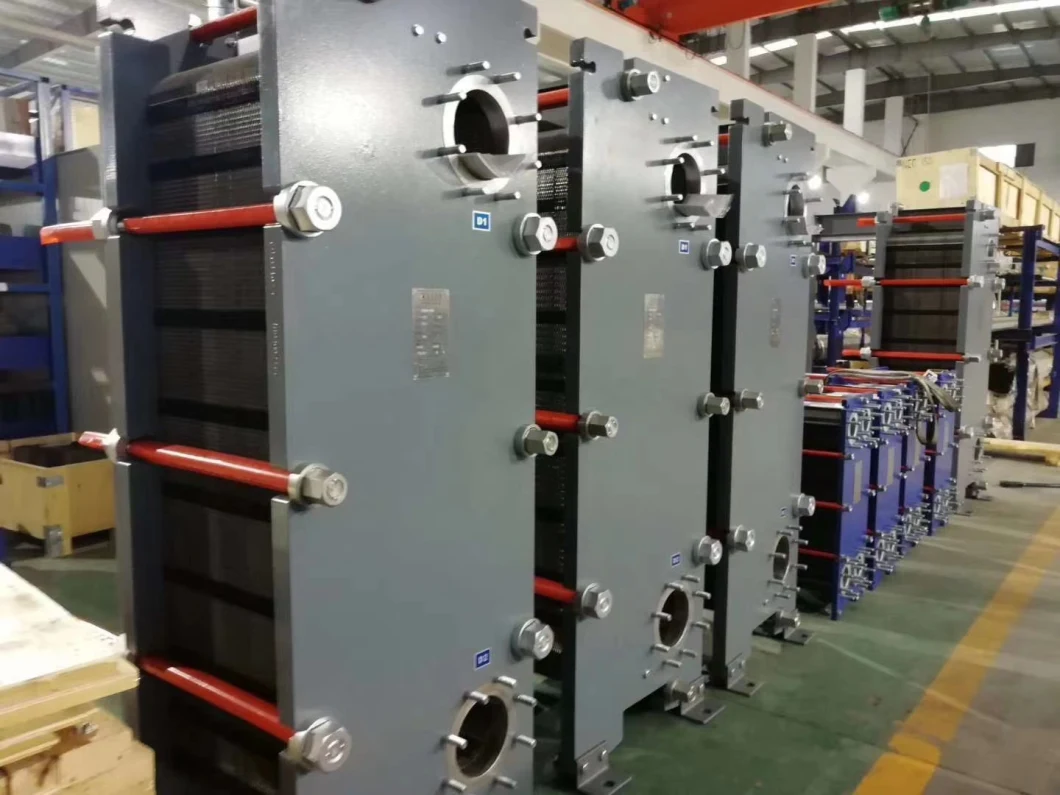 Why Choose Us?
1. EXPERIENCE :11 years of R&D and manufacture,service of more than 1000 customers.

2. 30000 square meter factory area

3. Core patent technology and authorized certifications

4. Strict quality control to ensure safe and reliable products

5.Service: 24 hours online service,life-long maintenance

6.Professional overseas sales team, supply prompt response