Best price juice plate heat exchanger plate heat exchanger condenser

We dare to make the following guarantees:
Based on our process calculations, if the heat exchangers we provide do not achieve heat transfer, we will add plates free of charge until the production needs are met. If we can't meet the production needs at the end, we will unconditionally give you a return processing.


Due to the uncertainty of heat exchanger selection and design, the price displayed is a range. For details, please contact customer service. If you do not communicate in the previous period, the customer service cannot accept it.

Product Description: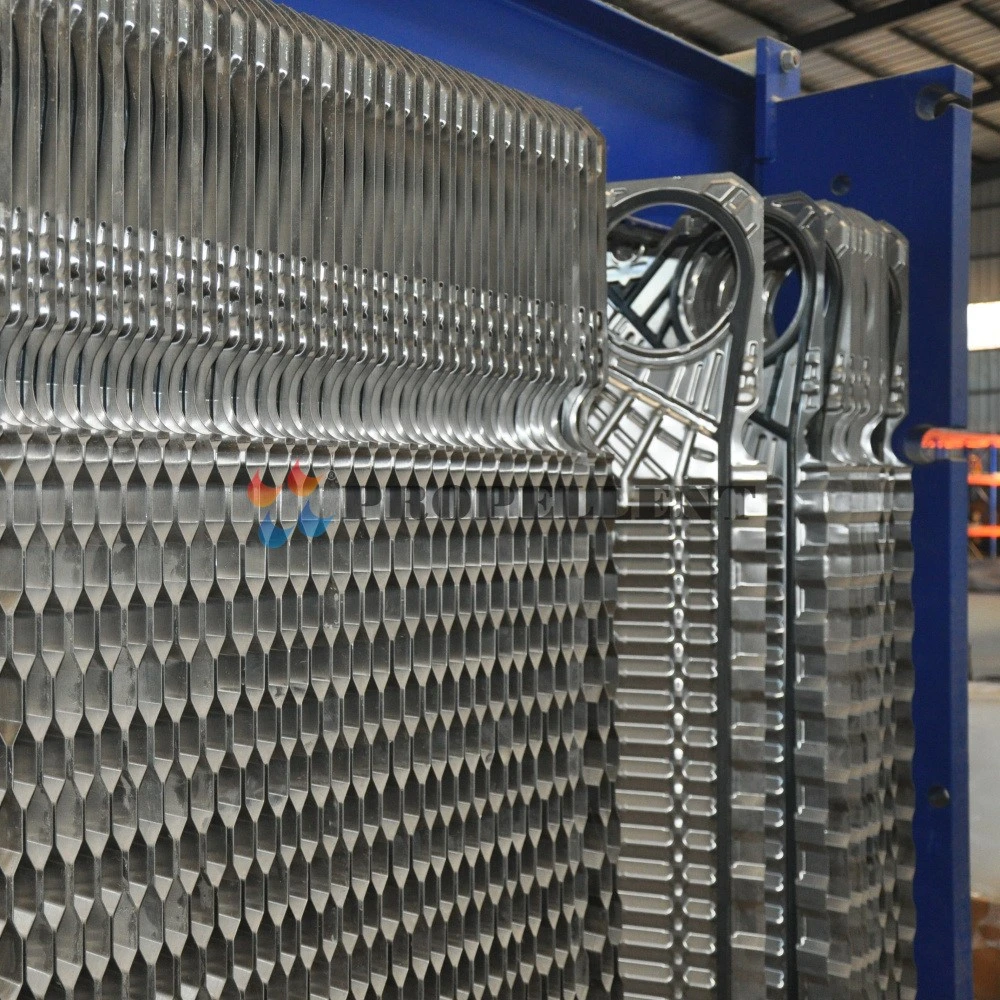 Technical specific:
Plate heat exchanger PRO-197L

Plates

Type
Single plate
Free channel
3.5 mm-12.0 mm
Plate thickness
0.5 mm-1.0 mm

Materials

Heat transfer plates
Stainless steel - 304/304L, 316/316L,SMO 254
Titanium
Hastelloy C-276
Gaskets
NBR
HNBR
EPDM
Flange connections
Carbon steel
Metal lined: stainless steel Alloy 316
Frame and pressure plate
Carbon steel
Epoxy painted

Dimensions

Height
650 mm
Width
330 mm
Length
up to 1025 mm
Connection diameter
DN50

Technical specifications

Pressure
16bar
Temperature
180 ºC
Area
0.15m2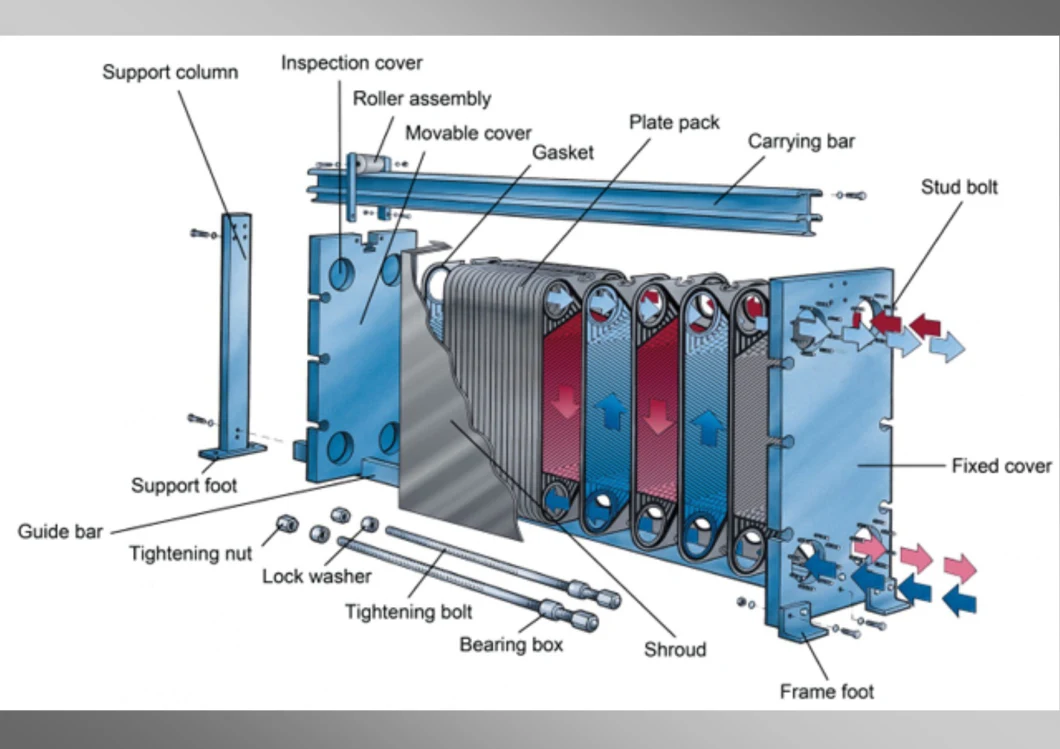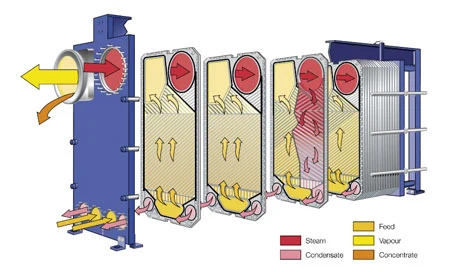 Feature
1.High heat transfer coefficient
2.Light weight, small footprint, easy installation
3.Easy to change heat exchange area or process combination
4.Easy to clean and easy to maintain
5. It can contain all kinds of products to prevent blockage
6. No metal contact point between the plates, absolutely avoiding the occurrence of dead Angle
7. The thickness of 0.4mm-1.0mm plate is conducive to strengthening the rigidity of plate
8. Minimize fouling rate, plate number and cost.

Plate material
Plate Material
Suitable for

Stainless

Steel

Pure water, standard sea water, edible oil

,mineral oil, petroleum,nonhigh chloride liquid

clean water, standard sea water, edible oil, mineral oil, petroleum

, non-high chloride liquid

Titanium

Sea water, salt water, mineral water, alkali, brine, sea solution

, sodium chloride solution

SMO254

Dilute sulfuric acid, organic dilute solution, Cl+>1500ppm

Hastelloy C276

Concentrated sulfuric acid, hydrochloric acid, phosphoric acid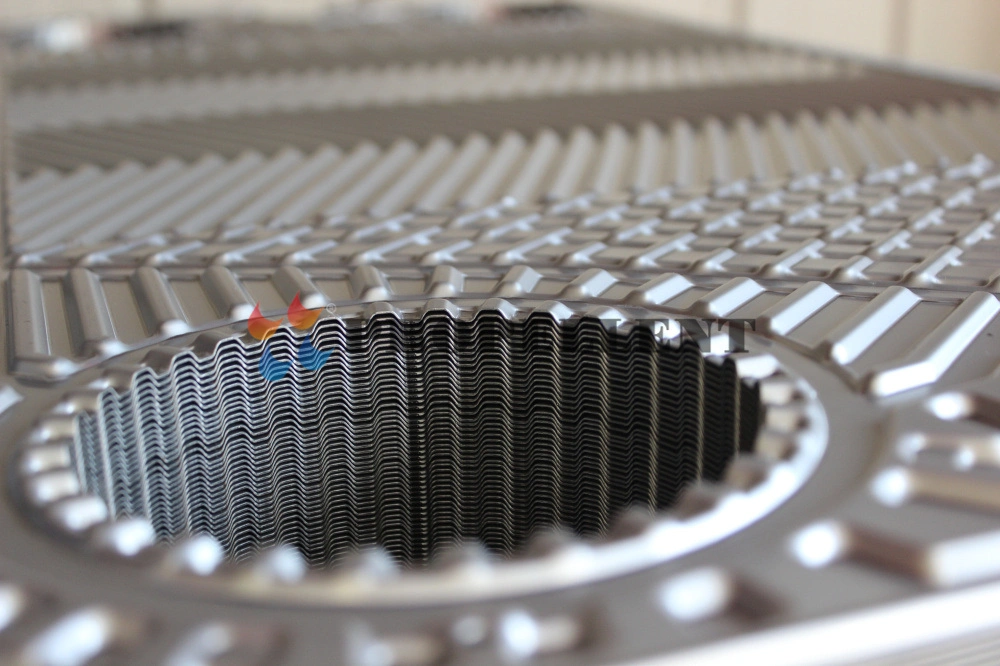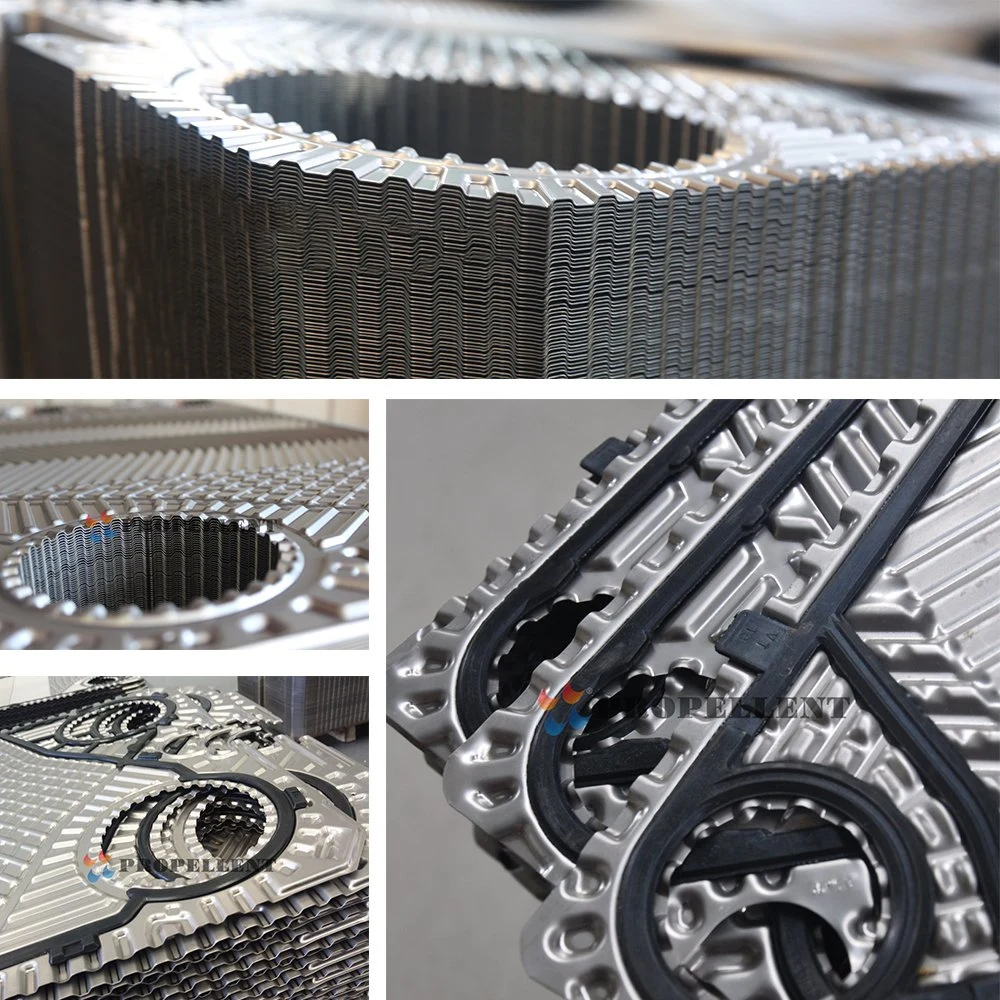 Gasket material:
Gasket Material
Maximum temperature
Characteristic

NBR Standard(nitril/perbunan)

10~130ºC

100ºC/212ºF

Very resistant to oils, solvents and greases

Water, sea water, mineral oil, vegetable oil, ethanol, ethylene glycol, alkylbenzene-containing refrigerants

NBR-HT(peroxide vem)

130ºC/266ºF

High temperature mineral oil, high temperature water, nitrile rubber

HNBR(Hydrogen)

160ºC/320ºF

EPDM(Ethylene Propylene Diene Methylene)
20~160ºC
150ºC/302ºF

Very resistant to various aging (high temperature, oxygen, ozone, weathering)

Water, steam, acid, alkali,NaOH

EPDM-HT(peroxide vem)
160ºC/320ºF
Applications:

• Biotech and Pharmaceutical
• Chemicals
• Energy and Utilities
• Food and Beverages
• Home and Personal care
• HVAC and Refrigeration
• Machinery and Manufacturing
• Marine and Transportation
• Mining, Minerals and Pigments
• Pulp and Paper
• Semiconductor and Electronics
Propelloent product: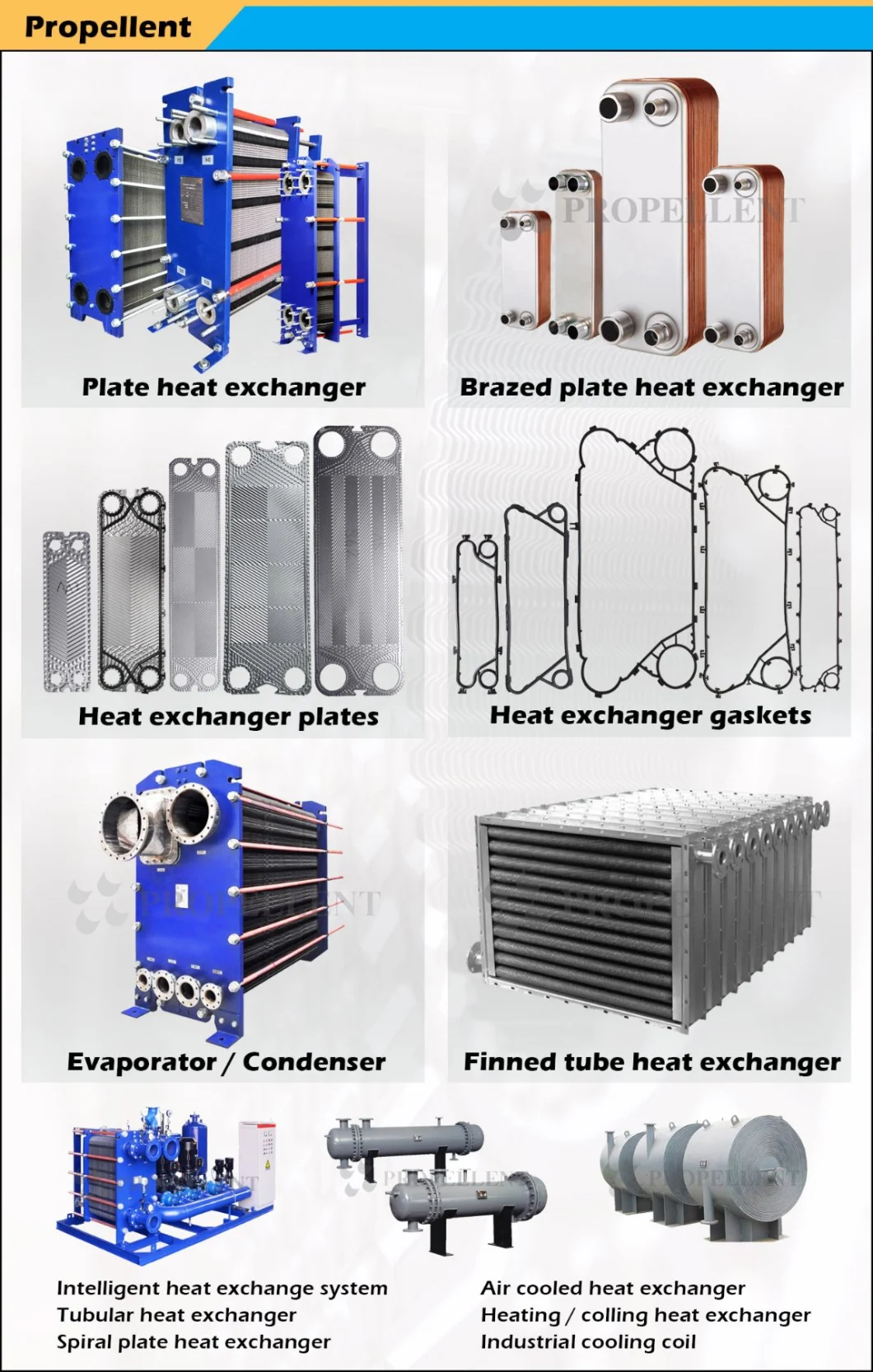 certificate: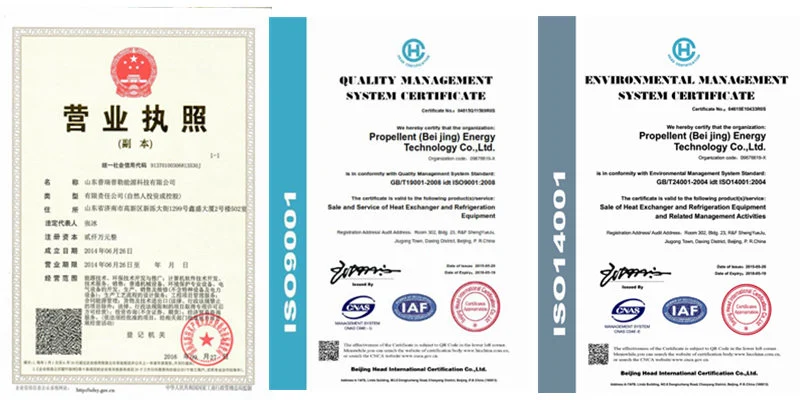 Company Information:
Propellent is the booster and leader of effective heat exchanger technology in all industries.Our branch companied located in Beijing,Tianjin and Anhui province provide one-step heat exchanger technology service to industrial and enterprise users all over the world.Meanwhile,Propellent actively explore the global industrial market,we have achieved industrial heat exchanger technology and finish turn-key projects in the African market such as Ethiopia , Zambia,and Southeast Asian markets such as Vietnam, Thailand, Laos, Cambodia. Also,we have realized heat exchanger equipment sales in industrial markets of developed countries, such as Germany, the United States, Hungary, the Czech republic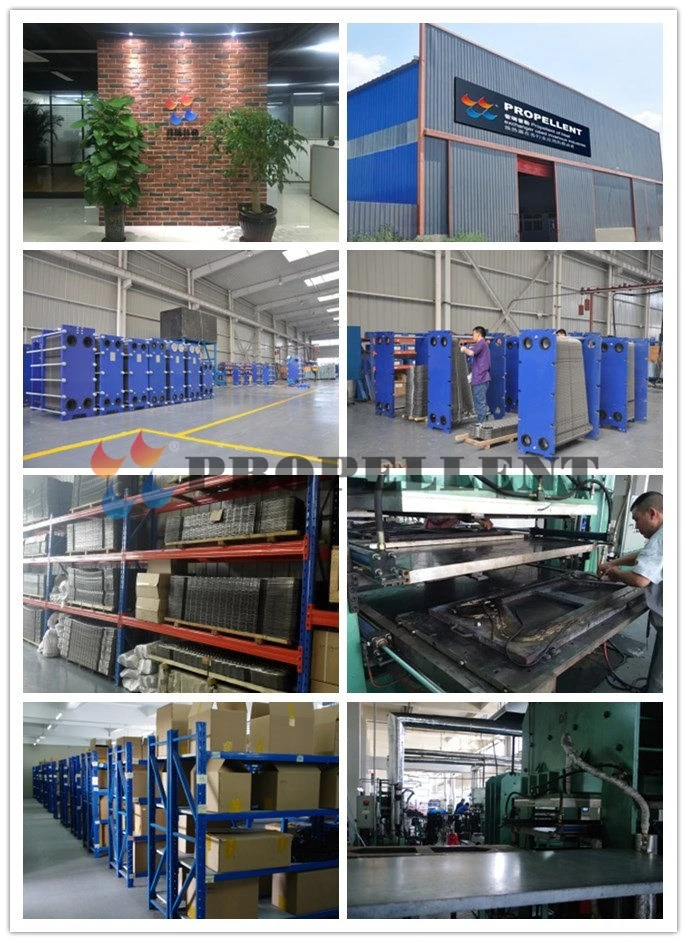 Modularized and systematic process design concept to guarantee meeting final demand of clients in full working condition.
To reduce the cost of purchase, operate and maintenance to bring more vale .
We are not only heat exchanger supplier, we are your experts on the solution for the heat transfer.
Propellent service
1.Design/Calculate/Data/Drawings
2.
Top
quality,Competitive
price,Fast
feedback
3.
Training
and
Operation
Manuel
4.
12
months
free
warranty
and
life-long
maintenance
5.
Package
details:
standard
export
plywood
case
&
carton
&customizing according to your requirements.

FAQ
1. Do you have your own factory?
Yes, welcome to visit our factory and check our products.
2. What is your leading time for the products I need?
Generally 7 working days. It depends on the quantities you request.
3. What is the warranty for your products?
We provide one year warranty for all the items we sold.
4. What payment terms do you accept?
Trade Assurance/TT/ Letter of Credit/ Western Union
Any other questions,Feel free to contact us!