Item Name: ASME U Stamp Titanium Gr. 2 Tubular Heat Exchanger
Application: Paper and Pulping
Tube Material: Titanium Gr.2
Tubesheet Material: Titanium Gr.2/SA266
Dimension: Dia. 500* Length 6000mm*Surface 60 sqm
Weight: 3 tons
Penetration Testing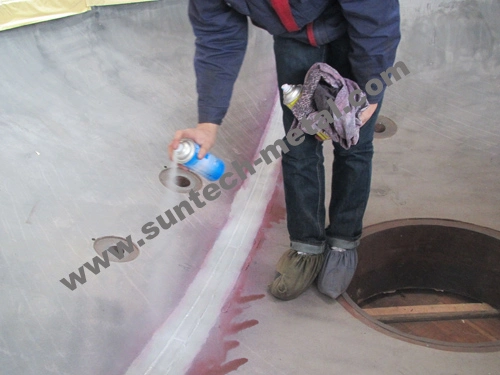 | | | |
| --- | --- | --- |
| Item | Item Name | Code |
| 1 | Heat Exchanger | TEMA,ASME,EN13445,PED |
| 2 | Tower | ASME,EN13445,PED |
| 3 | Vessel | ASME,EN13445,PED |
| 4 | Storage Tank | API620,650 |
| 5 | Reactor | ASME,EN13445,PED |
We provides high grade pressure vessel, reactors, heat exchangers, heaters, towers, tanks, columns, condensers, reboilers, separators, evaporators made of Nickel Alloy, Titanium Alloy, Copper-Nickel Alloy, Zirconium, Tantalum Alloy, Super Stainless Steel and clad metals, designed and fabricated according to ASME U, PED, TEMA, API650, EN13445 and other codes. These products have been widely used in such fields as petro-chemical, chemical, salt manufacturing, pharmacy, metallurgy, power, electronics, sea-engineering and environment protection, by Global Top 50 Chemicals for one decade.
Our mill is entitled with Grade A1 for design, Grade A1 for fabrication of pressure vessels and ASME U stamps authorization. It is an ISO9001 company certified by National Quality Assurance Limited and awarded with three As of Credit Rating and High- tech enterprise.
We have around 40 welders qualified for 252 types of welding, including SAW, STAW, GTAW, GMAW) and 9 persons for non-destructive inspection (including PT,UT,MT,PT), and 5 NDE persons are qualified with the requirements of ASME.
R & D Dep. is capable of designing drawings with CAD according to GB and ASME standards. It has such technique specifications and standards related to designing, including ASME, TEMA, API650 and etc.
Our manufacturing area for pressure vessel is 14000m2(1st phase) and 15000 m2(2nd phase), among which, there are more than 1000M2 isolated workshop on non-ferrous metal welding. Rolling capacity is 80mm maximum and crane capability is 100 tons maximum.