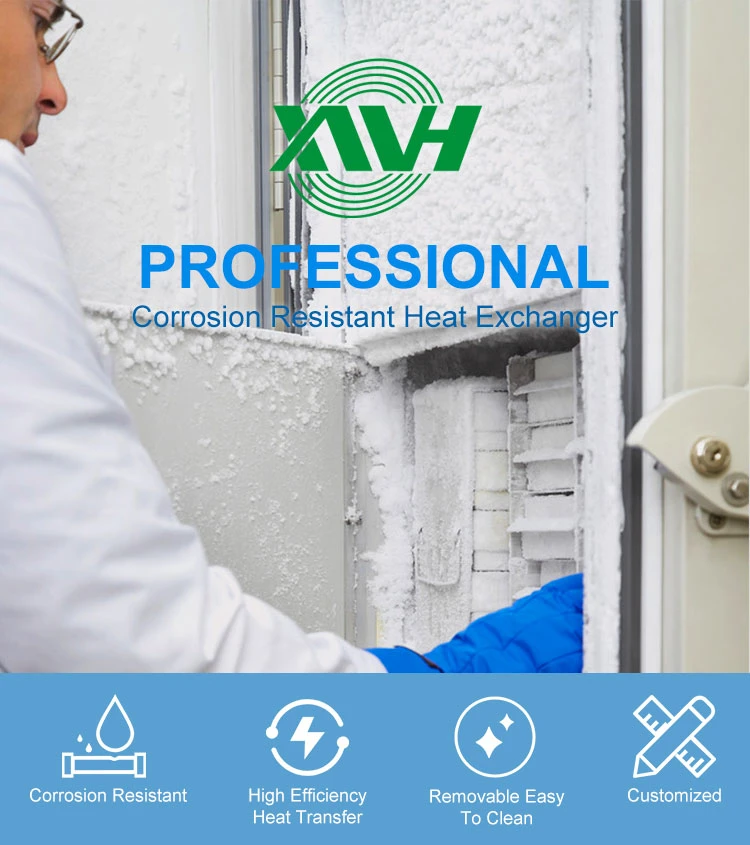 ASME 316l shell and tube cooler Titanium Tube Heat Exchanger
Work Condition:
1)Refrigerant side: R22,R134a,R407c,R410a etc.
2)Water side: fresh water, nature water, drink water, seawater, saltwater, ground water etc .
Material:
1)Heat transfer Tube: 316L / SUS304 / Copper / Titanium
2)Shell: 316L / SUS304 / Carbon steel / PP / PVC



Model

Capacity

Water Flow

External Dimensions (mm)

Gas in

Gas out

Water in/out
TEMP Sensor

Drain port

N.W

KW

m

3

/h

A

B

C

D

E

F

G

H

R

L

a

b

w1/2

i1/2

g

Kg

WHB-5.0DKG

11.6

2.0

660

170

90

500

130

400

60

200

35

35

¢22

¢19

50

3

/

8

25

29

WHB-8.0DKG

18.6

3.2

950

170

90

790

190

600

60

200

35

35

¢28

¢19

50

3

/

8

25

36

WHB-10DKG

23.2

4.0

1180

170

90

1020

350

600

60

200

35

35

¢28

¢19

50

3

/

8

25

40

WHB-12DKG

27.9

4.8

900

200

90

740

160

600

60

200

40

40

¢28

¢22

50

3

/

8

25

48

WHB-15DKG

35

6.0

1110

200

100

940

150

800

60

200

40

40

¢28

¢22

63

3

/

8

25

54

WHB-20DKG

46.5

8.0

1420

200

100

1250

370

800

60

200

40

40

¢38

¢22

63

3

/

8

25

64

WHB-25DKG

58.1

10.0

1460

225

100

1290

250

1000

60

200

43

43

¢38

¢28

63

3

/

8

25

78

WHB-30DKG

69.7

12.0

1

3

60

250

100

1

1

90

2

0

0

1000

60

260

53

53

¢38

¢28

63

3

/

8

25

95

WHB-40DKG

93

16.0

1720

250

110

1540

300

1200

60

260

53

53

¢54

¢28

75

1/2

25

115

WHB-50DKG

116.3

20.0

2120

250

110

1940

500

1200

60

260

53

53

¢54

¢28

75

1/2

25

136

WHB-60DKG

139.5

24.0

2030

280

110

1850

500

1200

60

260

65

60

¢76

¢38

75

1/2

25

168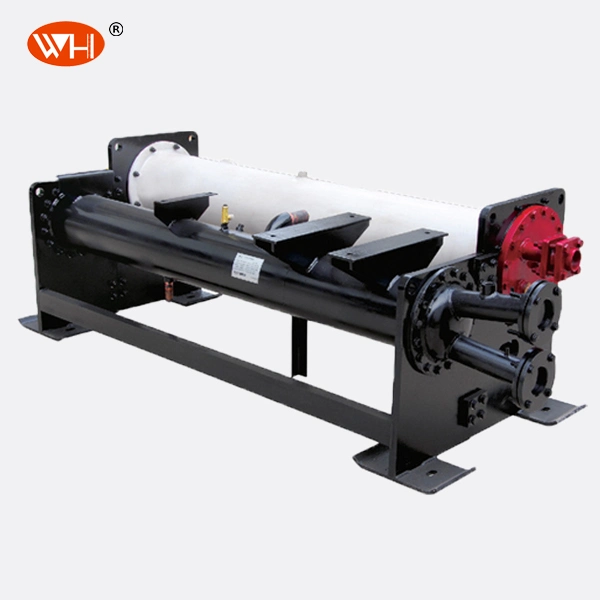 The combined pure titanium evaporator adopts the structure of upper and lower double barrels.The upper and lower barrels make internal diversion, so that the flow of chemical liquid changes direction.Also the cold and heat exchange is uniform.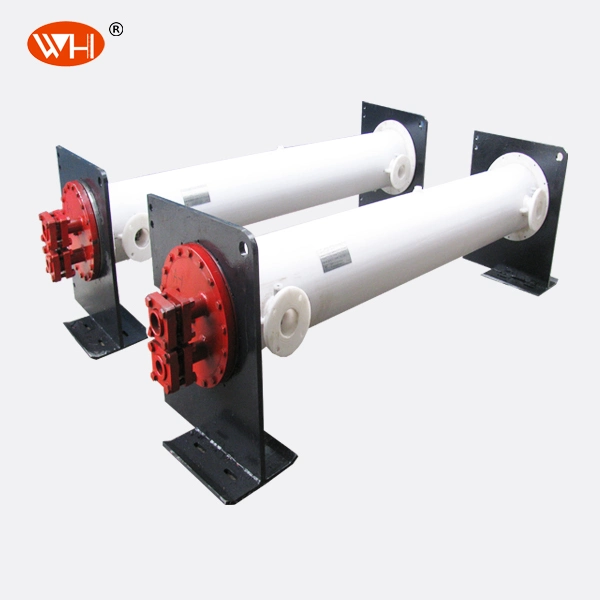 The inner tube refrigerant adopts double in and double out, which makes the refrigeration effect better, the refrigerant flows smoothly, and the cold and heat exchange improves rapidly.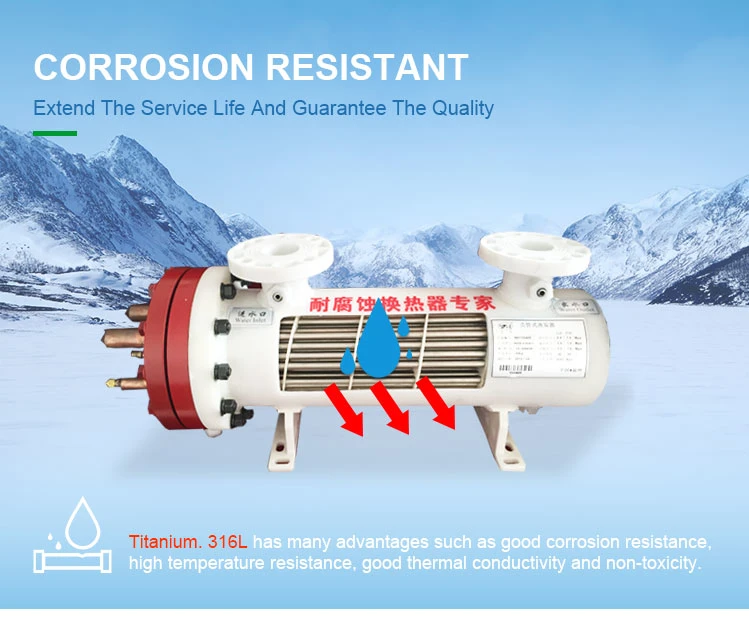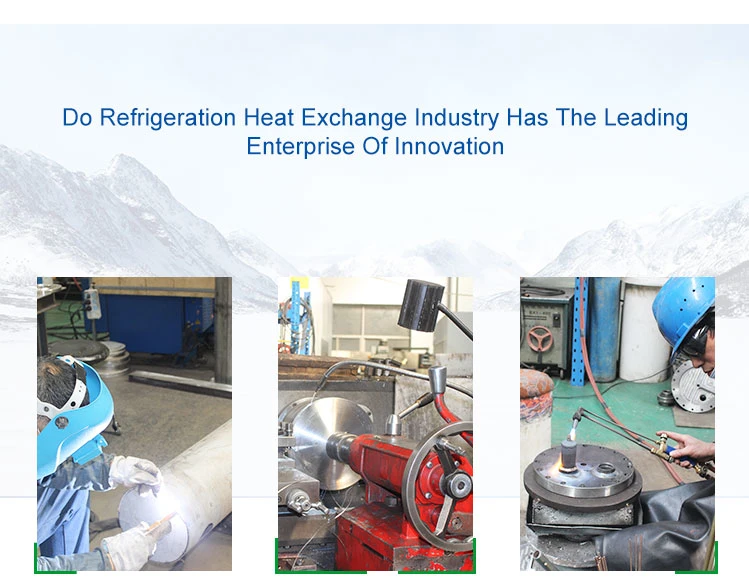 Wuxi New Wuhuan Engery Saving Technology Co.,Ltd.designs and manufactures a wide range of heat exchangers for refrigeration, industrial and special applications .Our evaporators and condensers can be manufactured with different materials and can work with all types of fluids and with duty up to 6000 kW. We are prepared for the solution of different heat exchange problems, thanks to the widest experience of technical departments able to suggest technical solutions best suited to each customer's need.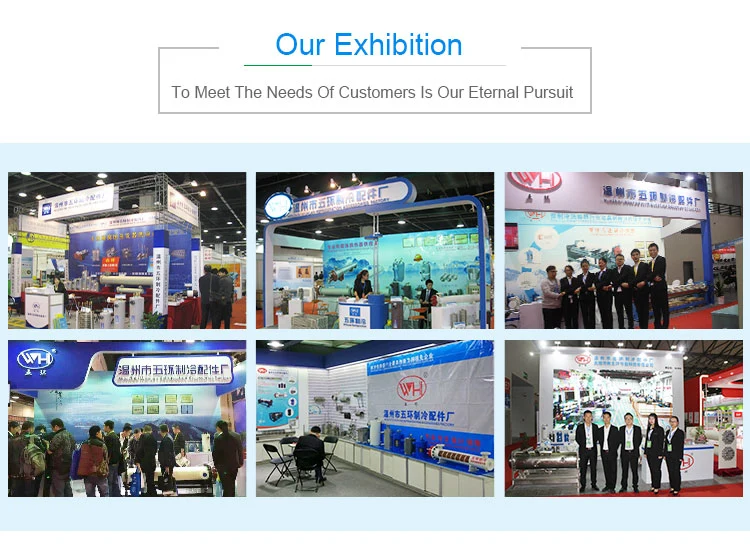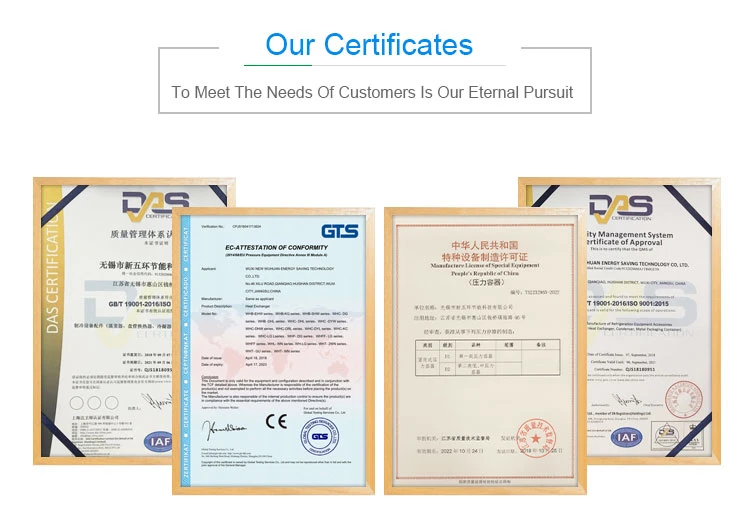 FAQ:
1.Are you factory?
Yes,we are one of the largest corrosion resistant heat exchanger manufactory in China.

2.Are there any discount for the heat exchangers?
Yes. Bigger quantity will enjoy lower discount!

3.What information needed if I want a quotation?
Please advise us the Type of heat exchangers, Material , Heat Exchanger Capacity, Water Flow, Water Temperature in and out ,Refrigrant Freon Type, Quantity, or any requirements in size.

4.What is the MOQ?
We accept loose quantity order,mixed order,any trial orders.

5.When can I get the price?
We usually quote within 8 hours after we get your inquiry.