When select air flow for equipment, the area of room and the number of people should be took into consideration. Base on the above date table "Air Flow for each person" and "Air Change Rate", separately calculate the air flow, then take larger value as a basis for equipment selection.
eg: An area of computer room S=50(m2), height h=3(m),number of people n=12(person);
If calculation base on "Air Flow for each person", each person need new air q=50(m3/h), so that air flow Q1=n·q=12×50=600(m3/h);
If calculation base on "Air Change Rate", each room need air change rated p=4.5(time/h),so that air flow Q2=p·s·h=4.5×50×3=675(m3/h).
Because Q2

>

Q1,so select Q2(675m3/h) as the chosen criterion.
Built-in highly efficient heat exchanger, so that the return air and supply air can realize the sensible heat and latent heat exchange during the air flow on the plate, not only provides a comfortable temperature, but also recover the energy.

The heat exchanger core is made of special fibre paper and ABS framework.

The heat efficiency is about 75%.

The heat exchanger connects with ventilator by lead rail, also equipped with flexible sealing material, avoided exhaust

air pollute inlet air, ensure the supply air quality; the heat exchanger is easy to disassemble and maintance.

Electrical system adopts the secondary circuit design, uses switchboard panel, simple, safe, quick to start and stop machine.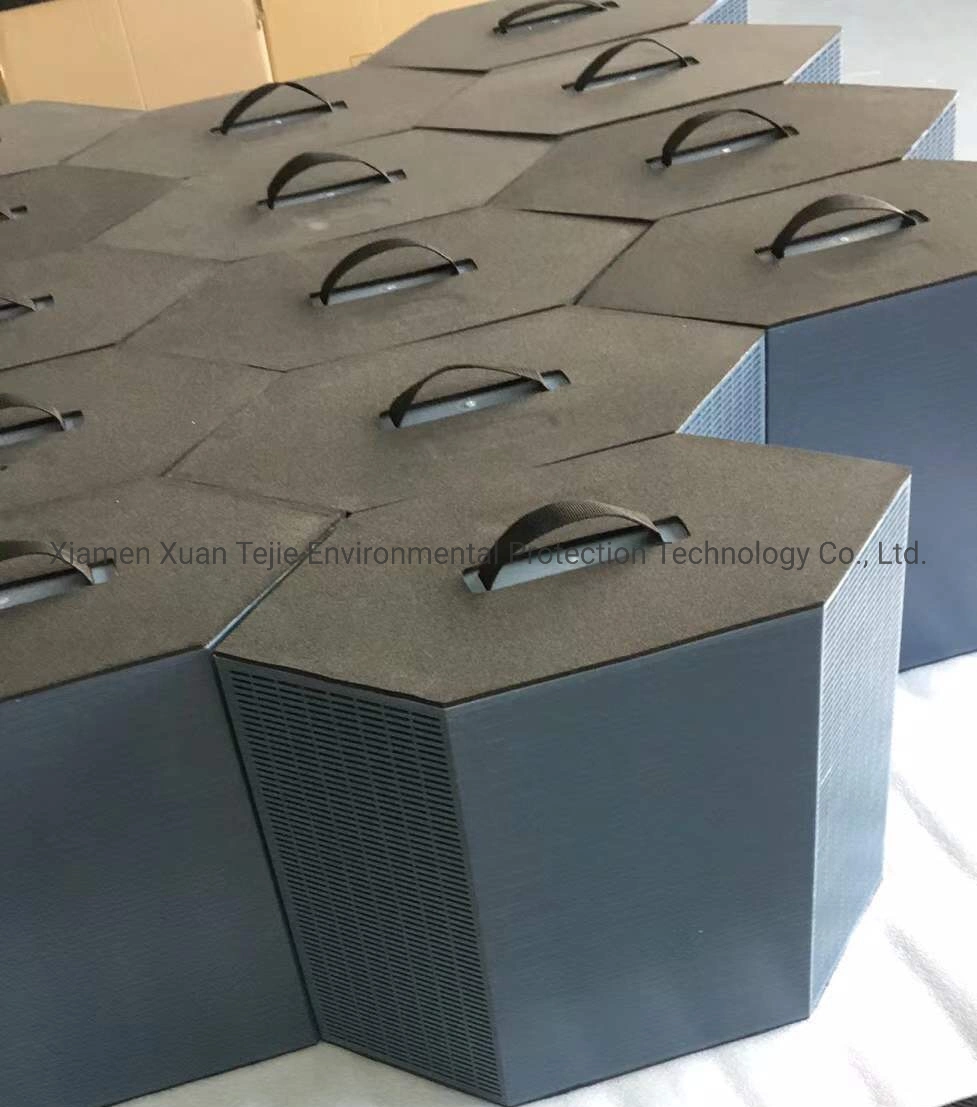 Working Principle


Two air streams are forced cross the heat exchanger, temperature and humidity exchange from the paper,so as to recover energy and achieve the energy saving .

Products advantages
1 It can exchange the indoor air and outdoor air.
When you close the door and window in your hourse, it can help you exchange the air.
In one side you can avoid the noise , in another side the fresh air is entered in you house. so as to keep body basic need fresh air and good for people's health.
2 It can recover the energy when exchange the air.
When the air conditioner exchange the air,it can recover the energy from the exhause air. It can recover about 75% energy from the exhause air.
[Feature]
1,Made of special fibrous paper, with high moisture permeability, good air-tightness, anti-rends, aging resistance, anti-mildew.
2,ABS framework, beautiful, not easy to break, long service time, pro-environment, good impermeability, ensure the intensity and tightness of structure, reduce back flow.
3,Rectangular channel, reasonable plate distance, less interior brace, small on-way resistance, less air loss, ensured the maximum heat exchanger core area, achieved to maximum efficiency.
4,Module structure, provide different size combination of edges and plate thickness.
5,No moving parts, and low maintenance cost, compact structure, small volume, suitable for various occasions.
6,Can use the vacuum cleaner purify the dust and foreign bodies on the devices, easy to use and maintenance.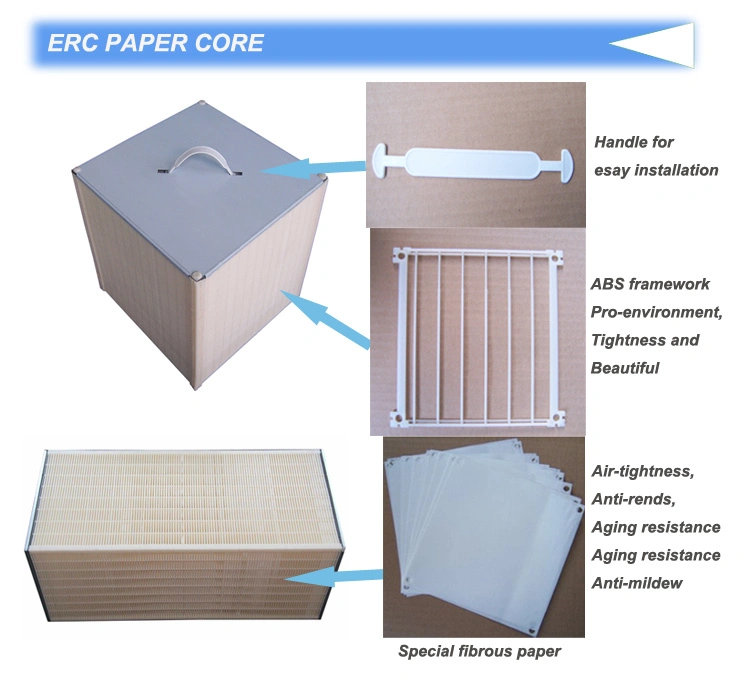 Applied to air handling units
The plate heat exchanger core is applied in air handling units, as the main components of heat recovery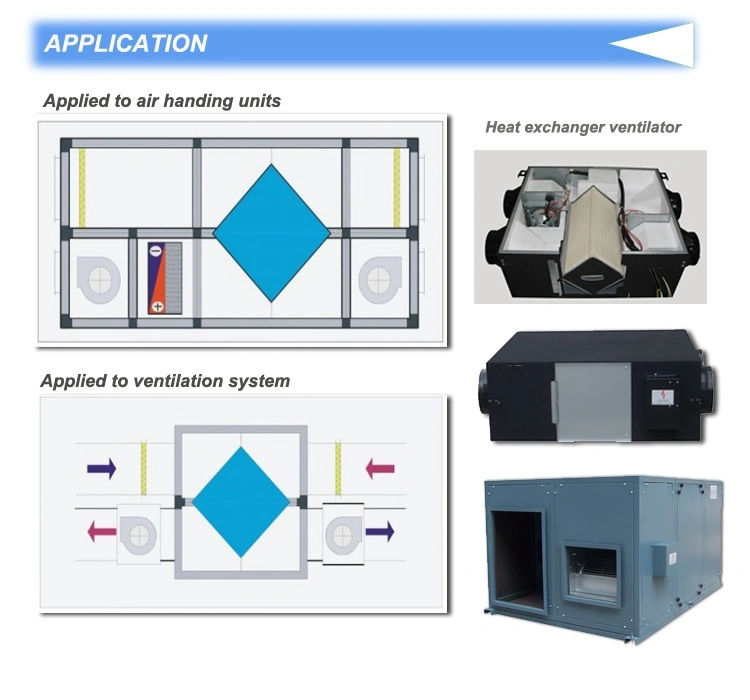 Installed in ducts
It can also be installed in the ducts of ventilation system as a main part of the heat recovery section. The installation is very flexible.
Packaging & Shipping
We care about all the details in the product process.
♦ Packing
1. Dust Proof Film + Anti-collision Foam + 5 Layer Cartons + Ply-wooded Case (For LCL only, no need fumigation).
2. Customized packing is available.
3. We are always working hard on the most reliable packing in order to help you get the Perfect products.
As Air ventilator with heat recovery has the soft character to cause the easy deformation, we focus on the safe packing in different transportation way.
Full container:PVC bag + strong carton (pallet for option)
LCL:PVC bag + special strong carton + pallet
By air / courier:PVC bag + carboard inserted in carton + special strong carton
FAQ
What's the difference between sensible heat exchanger and total heat exchanger?
1.Sensible heat exchanger is made of Aluminium foil,total heat exchanger is made of paper.
2.Sensible heat exchanger only exchange heat,total heat exchanger can exchange both heat and humidity.
3.Sensible heat exchanger has longer life and higher pressure-resistance than total total exchanger.
Because the paper heat exchanger are easy to be corroded by the water and dust in the air.The vent of
total heat exchanger is easy to be blocked and hard to be cleaned.This will lead to bad ventilated effect.
Our Services
1. Supply spare parts according to order quantity.
2. General testing and operational test carried out for every units before delivery.
3. Long warranty period.
Welcome to our Aluminum HRV core heat recovery core for air ventilation.